Professional tennis player Matteo Berrettini, facts and life story
Betting is a quite difficult but interesting hobby. When you take it seriously, betting will become a source of additional income. Studying information about the team or each player is crucial to bet effectively.
To make the right decision, you need to follow all the events in the player's life, know the history of matches and understand his strengths and weaknesses, thus, you increase the probability of a successful bet.
If you are interested in sports betting, especially in tennis, then our article about Matteo Berrettini will help you to understand whether it is worth betting on this athlete. You will learn about the most exciting facts and unrivalled games of Matteo Berrettini. So read up on it.
Who is Matteo Berrettini: inspiring biography, childhood and tennis passion
Matteo Berrettini is a famous Italian professional tennis player. He won his first ATP title in Gstaad, Switzerland in July 2018.
Berrettini is the only player under 30 years old who reached the quarterfinals of all 4 Grand Slams. The aggressive game style is his key way to achieve unsurpassable results.
Short Bio and Early Life
He was born on April 12, 1996, in Rome, Italy.
Mat is of partially Brazilian descent through his grandmother Lucia Fogaca, who was born in Rio de Janeiro.
Tennis can be considered their family affair because his grandparents are engaged in this sport too. Berrettini's family used to make trips in caravans in the summer holidays so that Matteo and Jacopo could compete in junior tournaments in Germany and Austria.
Even though Matteo started his career early, he still had time to acquire knowledge. So, like many Italian tennis players born in Rome, he studied at the public school there.
He has repeatedly said that it is the younger generation that motivates him and makes him become better because he is an example for them to follow. He advises his fans to learn from mistakes, he believes that this is the best thing you can do for yourself and your goals.
In addition to sports, he is also interested in cooking. In his spare time, he enjoys watching basketball or the TV show Breaking Bad.
Mat is a big fan of movies, specifically Interstellar and Tarantino.
First Steps in Career
He started playing tennis when he was just four years old, but at first, he didn't like tennis, so he preferred judo and swimming. Once his younger brother Jacopo (who is also a tennis player) forced him to pay more attention to tennis. This attempt became decisive in his life, so then at the age of 8 began his journey to conquer the tennis court.
In 2017, he defeated Laszlo Dyer of Serbia in the final of the San Benedetto tournament. In the same year, he made his debut on the ATP Tour. He played his first game against Fabio Fognini in the first round of the tournament in Rome.
The Swiss Open Gstaad, was Matteo's first ATP title, defeating Roberto Bautista Agut in the final athlete also won his first ATP doubles title at the same event, partnering with Daniele Bracciali.
Before serving, he feels pressure and anxiety, but nevertheless, it does not stop him, because he focuses on serving.
He tells himself to play aggressively, even if he misses he knows what to do next. Gradually making his way to fame, the sportsman continued to train and significantly improved his results compared to his previous performances. The right-handed pitcher began to win more and more battles.
Career Achievements
Tournament

2017

2018

2019

2020

2021

2022

SR

W–L

Win%

Grand Slam tournaments

Australian Open

A

1R

1R

2R

4R[a]

SF

0 / 5

9–4

69%

French Open

A

3R

2R

3R

QF[b]

A

0 / 4

8–4

67%

Wimbledon

A

2R

4R

NH

F

A

0 / 3

10–3

77%

US Open

Q2

1R

SF

4R

QF

QF

0 / 5

16–5

76%

Win–loss

0–0

3–4

9–4

6–3

16–3

9–2

0 / 17

43–16

73%

Year-end championships

ATP Finals

DNQ

RR

Alt

RR

0 / 2

1–3

25%

ATP Masters 1000

Indian Wells Masters

A

2R

1R

NH

3R

4R

0 / 4

3–4

43%

Miami Open

A

Q1

1R

NH

A

A

0 / 1

0–1

0%

Monte-Carlo Masters

A

A

1R

NH

2R

A

0 / 2

0–2

0%

Madrid Open

A

Q1

A

NH

F

A

0 / 1

4–1

80%

Italian Open

1R

2R

3R

QF

3R

A

0 / 5

7–5

58%

Canadian Open

A

A

A

NH

A

1R

0 / 1

0–1

0%

Cincinnati Masters

A

A

1R

3R

3R

1R

0 / 4

2–4

33%

Shanghai Masters

A

Q2

SF

NH

0 / 1

4–1

80%

Paris Masters

A

A

2R

2R

A

0 / 2

0–2

0%

Win–loss

0–1

1–2

6–7

3–3

8–5

2–3

0 / 21

20–21

49%

Career statistics

2017

2018

2019

2020

2021

2022

Career

Tournaments

1

20

24

6

14

9

Career total: 74

Titles

0

1

2

0

2

2

Career total: 7

Finals

0

1

3

0

4

3

Career total: 11

Overall win–loss

0–1

19–19

43–25

9–6

37–11

25–10

7 / 74

137–73

65.24%

Win %

0%

50%

63%

60%

77%

71%

Career total: 65.24%

Year-end ranking

135

54

8

10

7

$ 9,911,546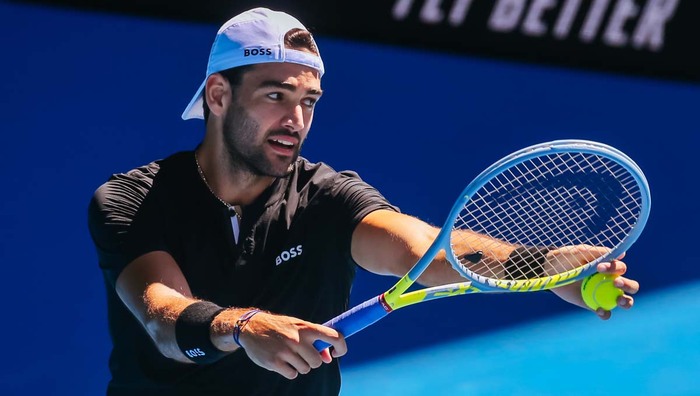 Personal Life
Italian athlete is currently single. The famous Australian tennis player was his girlfriend with whom he had been dating near two years. Matteo and Alja Tomljanovic officially confirmed their couple in October 2019.
In March 2022, Berrettini told about the breakup.
In the same period, he was injured, so spent time with his family and enjoyed a different kind of life.
Mat is not obsessed about finding another girlfriend, now he prefers spending more time with his family or team. He would like to travel to Africa, Matteo loves animals, so he plans to visit a place where there are wild animals. By the way, he is fluent in Italian, English and Spanish, so he can easily travel without a language barrier.
Performance 2021-2022
2021-2022 brought the athlete many victories and new achievements.
Matteo Berrettini's strong performance advanced Italy to the final of the 2021 ATP Cup against Russia. In the same year in the Wimbledon tournament, the athlete confidently won the first 4 matches, giving up only one set in the first round against Guido Pella. In the quarterfinals, Berrettini defeated No. 16 Felix Auger-Allassim in 4 games (6-3 5-7 7-5 6-3).
At the ATP Final Tournament, Berrettini refused to play during the first match against Alexander Zverev. On 20 June Mat won the biggest title of his career at the Queen's Club Championships, his first at the ATP 500 level. At the Australian Open, he became the first Italian man to achieve the quarterfinals at all four majors.
Matteo was the first Italian man to reach the singles semifinals at the tournament. His career-high ranking in the world is No. 6.
Tournament

2017

2018

2019

2020

2021

2022

SR

W–L

Win%

Grand Slam tournaments

Australian Open

A

1R

1R

2R

4R[A]

SF

0 / 5

9–4

69%

French Open

A

3R

2R

3R

QF[B]

A

0 / 4

8–4

67%

Wimbledon

A

2R

4R

NH

F

A

0 / 3

10–3

77%

US Open

Q2

1R

SF

4R

QF

QF

0 / 5

16–5

76%

Win–loss

0–0

3–4

9–4

6–3

16–3

9–2

0 / 17

43–16

73%

Year-end championships

ATP Finals

DNQ

RR

Alt

RR

0 / 2

1–3

25%
Especially difficult for Italian sportsman were the matches against young Carlos Alcaraz in the 3rd round and veteran Gael Monfils in the quarterfinals, which he won in 5 sets. The only man to have beaten Berrettini in the last three Grand Slams is Novak Djokovic.
2022-2023 season and games
At one of the tournaments, Mat suffered an injury to his right hand that required emergency surgery, forcing him to withdraw from the French Open to fully recover.
He made a bright comeback at the Stuttgart Open in early June and won the title. He followed that up with his second title at the Royal Club Championships.
In July 2022, Berrettini reached the final of the Swiss Open in Gstaad and lost in three sets to Kasper Ruud.
At the US Open, Berrettini defeated Andy Murray in the third round. Later he reached the quarterfinals, defeating Alejandro Davidovich Fokina in five sets. In the quarterfinals, he lost to Kasper Ruud in straight sets.
Player analysis: strengths and weaknesses
His strengths:
heavy topspin forehand;
strong serve;
aggressive play;
flexible muscles;
setting up quick points;
transitional and net game!
Weaknesses:
defensive game;
consistency;
inconsistency is considered the main mistake for his success!
This tennis player's shortcomings are not critical but sometimes become fatal for the game. The aggressive style of play is the main reason for his mistakes. It is necessary to know the strengths and weaknesses of the player because these factors will contribute to the victory.
How to bet on Matteo Berrettini
The modern betting business is a large subject of the world market with billions of dollars in turnover. It involves various companies that offer services for accepting bets on sports, e-sports, etc. A large number of bookmakers is considered a positive thing because high competition leads to a better quality of service.
But of course, there are also disadvantages – it is difficult for a beginner to navigate in such a variety. We hope our article and tips will help you to understand the nuances of choosing a suitable bookmaker.
You can understand how widespread the bookmaker is and what opinions players have about it on specialised forums. If information about the bookmaker is repeated on several sites, you can get a complete picture. Reliable can be called the office that always pays winnings to its customers without any delays and complex checks.
We have compiled a list of reliable bookmakers that have good ratings and are known for their good reputation.
Summary of Matteo Berrettini sportsman
Biography, birthplace, family, personal life, sports achievements – all this we learned today about the extremely talented and famous Italian tennis player. In recent years, the athlete shows excellent results, because tennis is his passion and he puts all his efforts into it.
His fans support him and become the motivation for the next steps, an extremely large number of positive reviews and impressions of Matteo's game can be found on the Internet.
We have high expectations and hope that his injuries will not prevent him from winning. Stay with us, bet only on trusted platforms and win!